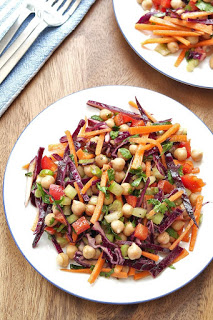 Chickpea Pick-Me-Up
Published Date:
4/13/2021 9:52:40 AM
Vata, Pitta & Kapha pacifying
YIELD: 4 servings PREP: 15 minutes (plus soaking time) COOK: 45 to 60 minutes
Chickpeas, also known as garbanzo beans, are one of the most versatile beans. Their light, dry quality makes them a perfect choice for Pitta and Kapha, but not such a great choice for Vata. This little legume contains fiber, protein, manganese, folate, copper, phosphorus, iron, and even a bit of zinc, making it an extremely healthy choice that is also low in calories and fat. They are also easy to cook with. Their slightly nutty, sweet flavor is delicious and subtle, allowing the chickpea to absorb the spices it is cooked with.
1 cup dried organic chickpeas
4 cups water (for soaking)
1 piece kombu
3 cups water (for cooking)
1 to 2 tablespoons sunflower oil
1 teaspoon black mustard seeds
1 pinch hing
1 teaspoon turmeric powder
1 teaspoon cumin seeds
1 teaspoon fennel seeds
½ teaspoon ground cumin
½ teaspoon ground coriander
1 small yellow onion, chopped
2 cloves garlic, minced
4 curry leaves (optional)
1 cup chopped tomatoes (optional for Vata, omit for Pitta and Kapha)
6 to 8 kale leaves
Himalayan salt
Freshly ground black pepper
Add the dried chickpeas to the water with the kombu, and soak overnight, or for at least 8 hours.
Drain and rinse the chickpeas, reserving the kombu. Add the chickpeas, kombu, and water to a 6-quart pot. Cover the pot, and bring to a boil over medium-high heat. Reduce to a simmer, and cook until the chickpeas are tender, about 30 to 45 minutes.
Drain the chickpeas, reserving ½ cup of the water, and discard the kombu.
In a large frying pan, heat the oil over medium heat. Add the black mustard seeds. Once they pop, add the hing, turmeric, cumin seeds, fennel, ground cumin, and coriander. Stir quickly.
Add the onion, and cook for about 5 minutes, or until tender.
Stir in the garlic and the curry leaves (if using).
Add the chickpeas to the pan, and stir until well coated.
Add the reserved cooking water if preferred, for a soupier consistency or leave it out.
Add the tomatoes, if using.
Layer the kale leaves over the mix and allow to wilt, about 5 minutes. Cover the pan and let the spices and flavors meld for about 5 to 8 minutes, stirring occasionally.
Add the salt and pepper. Serve.
If Pitta and Kapha want to enjoy this dish even more, add a big handful of fresh cilantro before serving. Vata can use more oil when cooking or add some ghee before eating. Always use non-GMO organic chickpeas, as the non-organic type has loads of pesticides applied. You can use 1 (8-ounce) can of chickpeas in place of the dried chickpeas. Be sure to purchase  only BPA-free, non-GMO, organic, canned chickpeas and rinse them well before using.