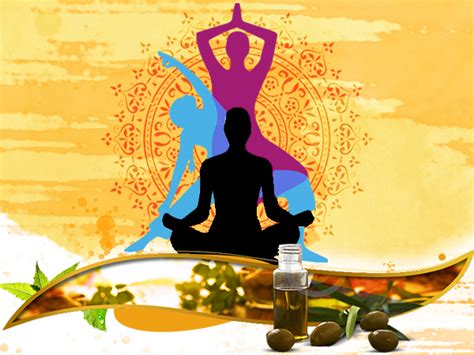 Yoga
Published Date:
6/17/2023 6:09:36 AM
Yoga :
yoga therapy is the specific application of yogic tools—postures/exercises, breathwork, meditation techniques, and more—to address an individual's physical, mental, and emotional needs."
The National Ayurvedic Medical Association (NAMA) further defines Ayurvedic Yoga Therapy as the "application of Āyurvedic principles to the practice and principles of Yoga based on the Āyurvedic understanding of the nature of patient, the nature of imbalance, and the nature of the therapies, to promote healing and achieve a harmonious state of body and mind with respect to individual consciousness."

Step 1: Reach the Appropriate Educational Standards

The education of a yoga therapist must go beyond the usual training of a yoga teacher to include instruction on client assessment and treatment. The individualized nature of yoga therapy separates it from yoga practice in a community studio. IAYT describes this distinction: "A general public yoga class can certainly ease everyday aches, pains, and mood complaints. But a yoga therapy session goes much further because it is tailored to the individual. Yoga therapists have in-depth training to help them assess and keep their clients safe. They work with you to address your specific goals while considering any limitations you might be experiencing."
The unique nature of an Ayurvedic Yoga Therapist's role dictates a Scope of Practice that includes services grounded in Ayurvedic theory and applied knowledgesof physiology and cause and effect according to the underlying gunasand the manifesting doshas. The AYT Scope of Practice states that "the Āyurvedic Yoga Therapist shall have the competency to design, implement, demonstrate, instruct, and teach an individual a yoga therapy program to help with their healing process based on the Āyurvedic Prakŗti/Vikŗti paradigm and Āyurvedic definition of health." 
Currently, IAYT maintains high educational standards for yoga therapists that include the completion of more than 800 hours of training. IAYT now has over 175 schools worldwide that have been accredited to train yoga therapists. Comparatively speaking, our efforts to legitimize the field of Ayurvedic Yoga Therapy as conceived by NAMA are still in their infancy. Schools are in the process of seeking recognition to train individual practitioners. The accomplishment of these goals rests on the assurance that this professional designation requires extensive training t in both Ayurvedic medicine and yoga therapy that enables the practitioner to provide comprehensive whole-person care. To that end, the AYT Standards Committee has increased the required training hours d to between 1,100 and 1,500 hours, with 1.300 as the median.

Step 2: Take Policies into Consideration
An Ayurvedic Yoga Therapist has the ability to help with disease prevention, health promotion, and both acute and chronic health conditions. However, the legal status of such a practitioner will vary from state to state. The National Health Freedom Coalition lists 10 states with Health Freedom Laws. Ayurvedic Yoga Therapists in these states will have more leeway in describing and advertising their practice to the public and in interacting with clients. Consult your local and state statutes for the specific details.
NAMA is not qualified to dispense information or advice on legal issues related to AYT practice; however, we can provide information on what types of guidelines and administrative requirements may influence the nature of your practice. It will be critical that you ensure compliance with any licensing (business or provider related) that is relevant for hands-on healing in your area. It will be necessary to provide a disclaimer on your website and documents indicating that you are not engaged in the practice of medicine. State clearly that your professional objective is to treat Ayurvedic imbalances and request consent for treatment from your clients.
Likewise, it will be helpful to publish a code of conduct on your website that states how you will interact with clients, the parameters for physical contact, and the measures you have in place to protect their confidentiality. Ideally, your clients should feel fully informed before they walk in the door. Always ask if they have questions before beginning assessment or treatment. In addition, make sure that clients understand that you are not equipped to deal with healthcare emergencies. On your voicemail, remind clients to call 911 in the case of any health emergency. Familiarize yourself with NAMA's Code of Ethics and make sure you can confidently address any client concerns related to ethical practice.

Step 3: Understand Best Practices

Best Practices include behaviors, actions, and approaches that will help you to ensure a high standard of care for your clientele. This may include organizational systems, strategies for keeping yourself accountable to your scope and ethics during sessions, protocols for client documentation, and standards that ensure each client receives equal and appropriate care. You may also want to have an online appointment system or a designated return-call policy of 48 hours. You should have a set of documents you use for recording assessment and treatment information for clients to standardize recordkeeping across your practice. You may want to develop "charting" strategies for tracking patient progress as wellaspprotocols for common conditions that you can use as a foundation for personalized care.
Everyone will set up their practice differently; however, following some of the previously mentioned advice will help the field of Ayurvedic Yoga Therapy gain legitimacy and will helpt AYTs communicate with each other and with other health professionals more effectively. As we recognize more individual members of the AYT professional category and begin to approve training programs, it will benefit all of us to be mindful of the impact of training requirements, the defined Scope of Practice for AYTs, and local and state policy considerations on your approach to providing AYT services. The manner in which we implement best practices will ensure that the public has quality information and will ultimately increase both accessibility and effectiveness of Ayurvedic Yoga Therapy, thereby increasing the clientele for this emerging healing discipline.