Marma Therapy
Published Date: 6/17/2023 5:51:50 AM
Marma therapy is based on the utilization of 107 points in the body which are considered to be access points to body, mind, and consciousness.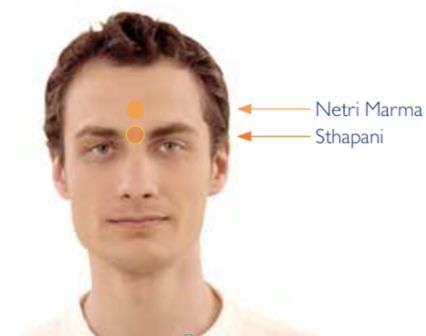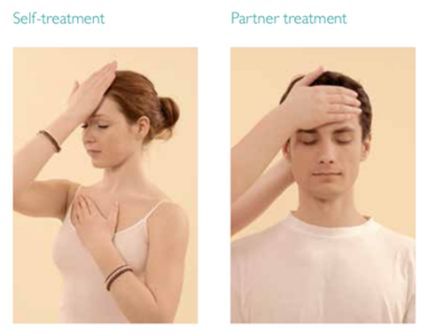 Sthapani Marma
Sthapani Marma
Sthapni Marma - located between our eyebrows is related to Kapha dosha
How to find Sthapani?
It is located slightly above and between the eyebrows. Another point with similar characteristics, the center of the sixth Chakra, lies at the…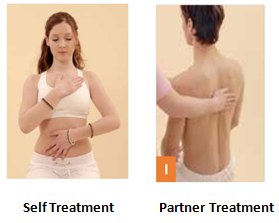 Hridaya Marma
Hridaya Marma (The great heart Marma):
The heart is seen in Ayurveda as the seat of the soul (Atma) and, for this reason, Hridaya is the most important of all the Marmas. Connections emerge from Hridaya to all the other…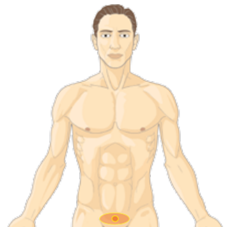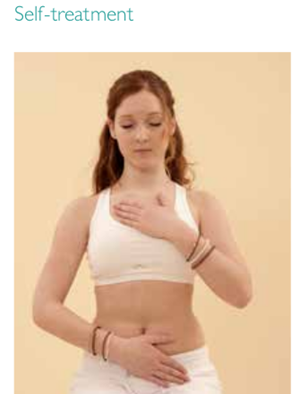 Basti Marma
Basti Marma (The bladder Marma):
Application:

Bladder diseases, irritable bladder, exhaustion, and nervous disorders, menstrual disorders, sexual disorders, gynecological problems, prostate problems, flatulence, colon problems, back pain, hip pain.

Significance: The bladder is the seat of the lowest of the…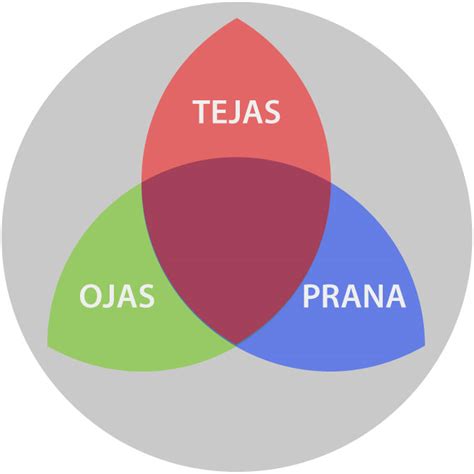 Ojas, Tejas & Prana
Prana, Tejas, and Ojas are the subtle forms of Vata, Pitta, and Kapha respectively and they have an influence over our mind & body. Prana and Tejas are rooted in Ojas and can be regarded as aspects of Ojas.
 OJAS:…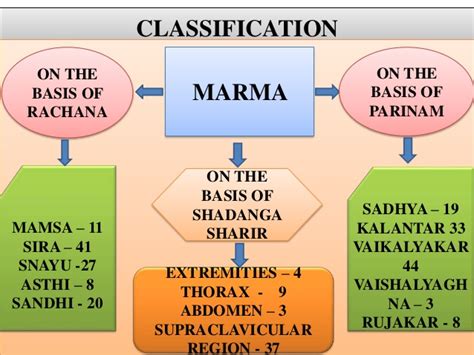 Classification of Marmas
Traditionally, Marmas are classified according to the consequences of injury. Indeed, the medical knowledge of Marmas is based on the ancient Indian martial art Kalari, which is still practiced today in South India. In Kerala, young men are taught…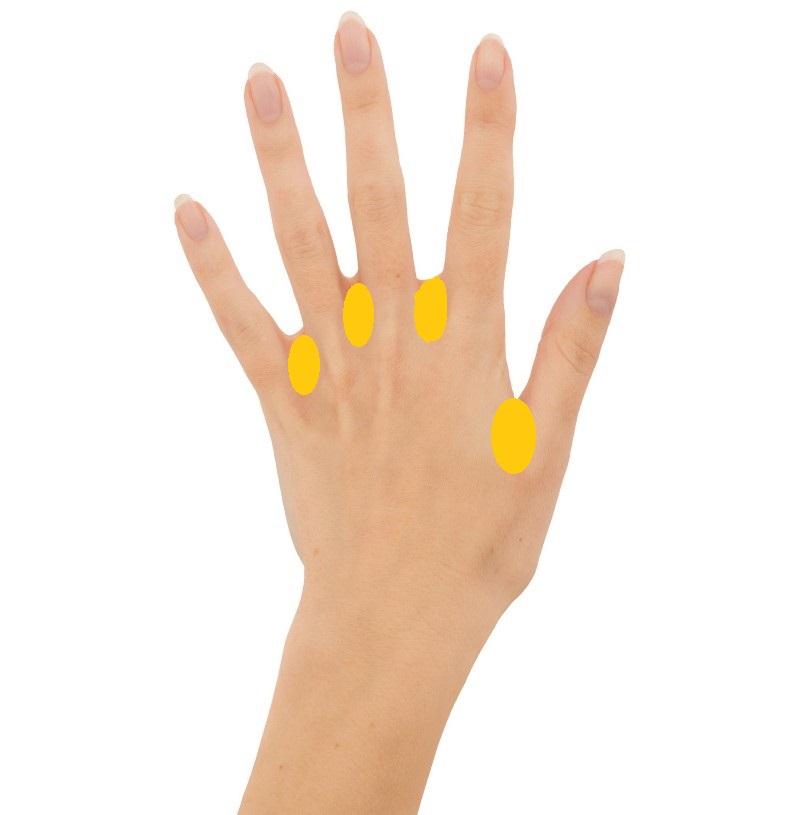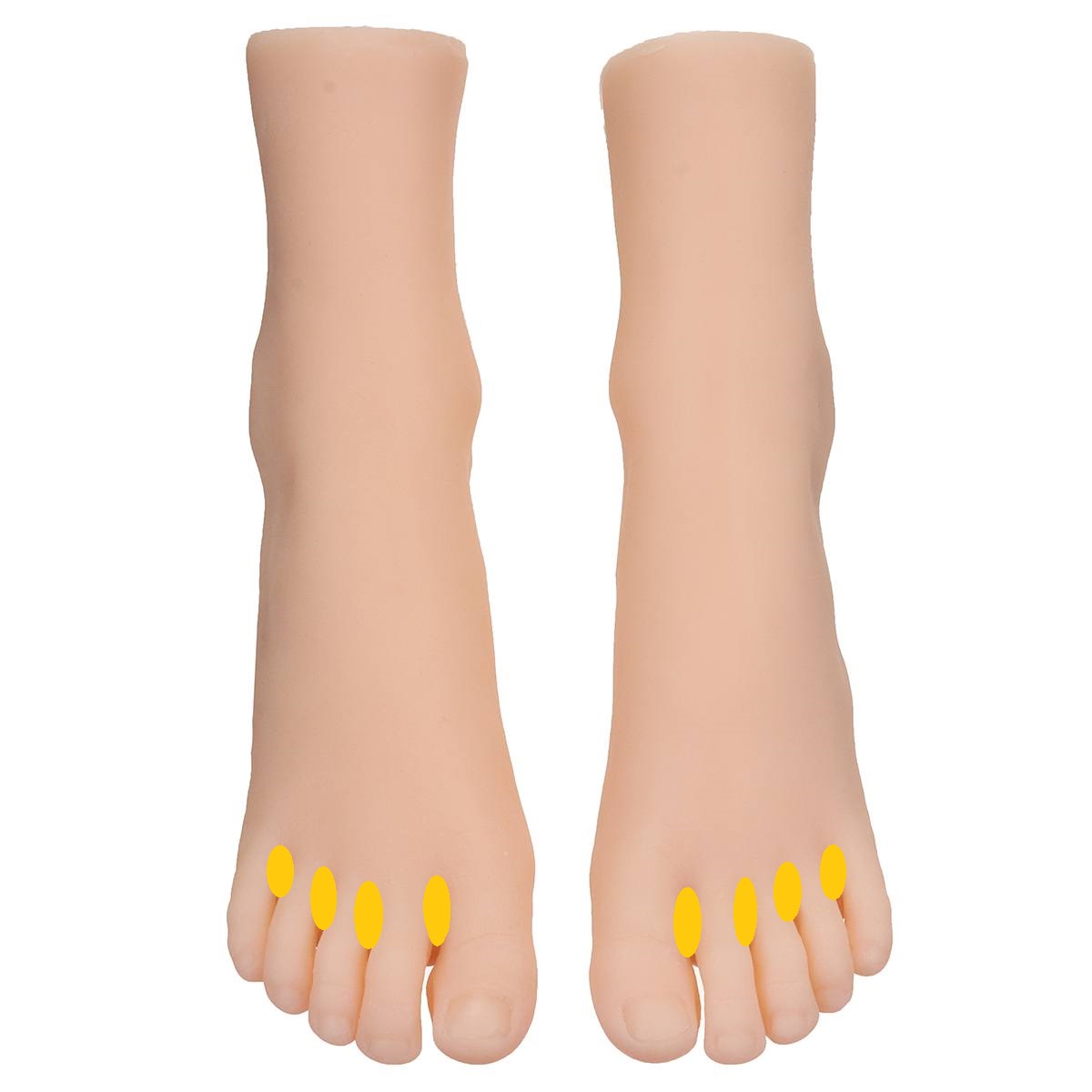 Kshipra Marma
KSHIPRA MARMA:
There are 4 kshipra marmas. Between the index fingers & the thumbs of both our hands & foot.

With the healing of the Kshipra marma of the left hand, you can do the healing of the Kshipra marma…
Navel Marma – Nabhi
Nabhi is a big blood vessel Marma around the navel, which is the centre of this Marma.

Application: Indigestion, abdominal cramp, restlessness, anxiety, intestinal inflammation, Crohn's disease, ulcerative colitis, flatulence, loss of balance in life.
Significance: The navel is…
The Wrist Marma – Manibandha
Manibandha means "that which connects the hand" (with the arm). As a joint Marma, it

monitors movement and stands for flexibility.

Application: Vata disorders, the tension in the wrist, general joint pain and a tendency to arthritis, neck and…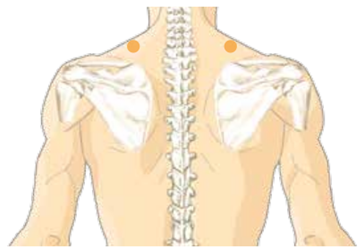 Amsa Marma
Amsa means 'shoulder'. This tendon Marma is found in the area of the shoulders and neck.

Application: Neck pain and tension, headache originating from the back of the neck, discomfort in the neck, anxiety.
Significance: As a tendon Marma,…
Gulpha Marma
Gulpha means 'ankle'. It is a joint Marma.
Application:
Anxiety, mental and physical insecurity, lack of coordination in walking, disease of the pelvic organs, sexual disorders, tinnitus and eye strain, mental restlessness, sleeping disorders, restless leg syndrome.
Significance:
Ani Marma And Urvi Marma
Ani Marma And Urvi Marma On Hands
The healing of these marmas helps in promoting the health of our heart, lungs & esophagus. It helps in maintaining proper water balance in the upper part of our body & helps in…
Eye Marmas (Avarta and Apanga)
The eye Marmas - Avarta and Apanga:
Significance:
The eye Marmas provide the visual system with Prana and control its energetic functions. Farsightedness is a quality of a free mind that can look into the future and can live and…
Nila, Manya and Sira Matrika Marma
Nila means 'blue', and the name is derived from the blue translucent neck veins. The Throat Chakra is controlled by Nila. Manya means glory (which is bestowed on someone who is allowed to give a speech) but also 'jaw',…