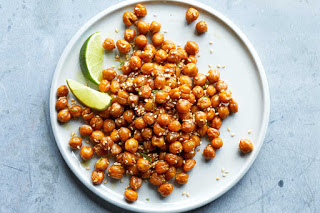 Crunchy Chickpeas
Published Date:
4/13/2021 9:52:18 AM
Pitta & Kapha pacifying
YIELD: 5 cups PREP: 20 minutes Cooking: 30 minutes
While we don't promote snacking in Ayurveda, sometimes we just need a little something to peck on now and then. Crunchy garbanzo beans make a satisfying and supremely healthy choice for Pitta and Kapha. As witnessed by the many packaged chickpea snacks now commonly seen in stores, chickpeas are popular these days. You can make this snack yourself for a quarter of the price. You can also customize the flavors to satisfy your dosha, and your palate, by getting creative with the spices.
2 cups pre-cooked chickpeas, or 2 (8-ounce) cans chickpeas, drained and rinsed.
1 teaspoon sea salt (for Pitta), or Himalayan salt (for Kapha).
½ teaspoon smoked paprika, or ½ teaspoon ground cumin, or ½ teaspoon garam masala powder (optional).
1 tablespoon sunflower or safflower oil (optional for crunchiness; no oil for "Kapha")
Spread the rinsed chickpeas on a baking sheet to dry, about 20 minutes.
Preheat the oven to 450°F.
In a mixing bowl, add the chickpeas; salt; paprika, cumin, or garam masala (if using); and the oil (if using). Toss well to coat, and spread on a baking sheet in a single layer.
Place the baking sheet in the oven and bake for 20 minutes. Remove from the oven, and use a spatula to turn the chickpeas over. Place back in the oven and roast for an additional 10 minutes, or until the chickpeas are slightly browned. Roast a little longer, if desired, for crunchier chickpeas.
Store the crunchy chickpeas in an airtight container. Do not refrigerate. These are great to sprinkle on salads and rice dishes. Don't make more than you can eat in three days.
To cook your Crunchy Chickpeas, soak overnight, drain, and place into a large soup pot. Cover with water, at least double the number of beans. Bring to a boil, then cover and simmer for at least 30 to 45 minutes. Check on the beans during cooking. When they are soft, they are done.