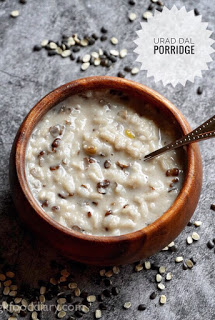 Urad Dal Porridge
Published Date:
4/13/2021 9:53:10 AM
Vata pacifying; Vata, Pitta & Kapha benefit after travel
YIELD: 4 servings PREP: 10 minutes COOK: 30 minutes
Urad dal, also known as black gram, is a heavy type of dal that is great for calming Vata. This recipe is perfect to make after traveling—whether it's a 13-hour trip to India or a 5-hour coast-to-coast flight—all travelers can benefit from the grounding, heating qualities of urad dal. As airplane travel dries you out, urad dal counteracts that with its moist, unctuous, heating qualities. While those qualities tend to increase Pitta and Kapha, I find that using this recipe just after travel can benefit all doshas. Vata can also add another spoonful of ghee before eating.
1 cup uncooked white basmati rice
1 cup dried split urad dal
2 tablespoons white, brown, or red miso paste
3 cups vegetable broth, mushroom broth, or a combination
1 to 2 cups water (depending on desired consistency)
1 tablespoon ghee
½ medium yellow onion, chopped
1 teaspoon garlic powder
1 teaspoon turmeric powder
½ teaspoon ground cumin
½ teaspoon ground coriander
4 to 5 leaves Swiss chard, rainbow chard, kale, or mustard greens, chopped
½ teaspoon sea salt
Freshly ground black or white pepper
½ teaspoon Bragg's Liquid Aminos (optional)
2 tablespoons raw, unsalted pumpkin seeds, or sunflower seeds, for garnish (optional)
In a bowl, mix the rice and dal together and rinse well. Fill the bowl with water and allow the dal and rice to soak while you prepare the other ingredients.
Boil ½ cup of hot water, pour into a small bowl and stir in the miso paste until it dissolves.
In an 8-quart soup pot, add the miso broth, vegetable broth, and water and heat over medium heat.
Add the ghee, onion, garlic powder, turmeric, cumin, and coriander to the broth.
Bring to a boil, and add the soaked rice and dal. Allow the mixture to come to a boil again, and then lower to a simmer and cover the pot. Stir occasionally until all the liquid is absorbed.
Toward the end of cooking, add the greens and stir well. Cover the pot and allow the greens to wilt over very low heat or no heat.
Add the salt and pepper. Let the porridge sit for about 5 minutes. Divide into four servings and, if desired, top each serving with the Bragg's Liquid Aminos and the pumpkin or sunflower seeds.
To make this recipe vegan, use avocado oil instead of ghee. Refrigerate the remaining portions and reconstitute it by adding more water or broth the next day before reheating over medium heat.