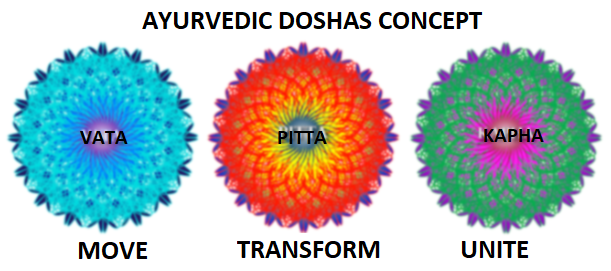 Ayurvedic Doshas
Published Date:
9/17/2021 11:16:22 PM
To learn the working of mudras, we first have to understand the three doshas described in Ayurveda. 
Vata Dosha
Pitta Dosha
Kapha Dosha
Doshas are made up of the 5 elements.
Two elements combine together to form one dosha.
      AIR + SPACE = VATA DOSHA
      FIRE + WATER = PITTA DOSHA
      EARTH + WATER = KAPHA DOSHA
QUALITIES OF DOSHAS :
Light
Subtle
Cold
Moving
Dry
Rough
Function of Vata Dosha :
Movement
Breathing
Natural urges
Transformation of tissues
Motor functions
Sensory functions
Secretions
Excretions
Fear
Emptiness
Anxiety
Vata is wind. It governs movements and Nervous System.
Balanced Vata – creativity, stability, groundedness, centeredness.
Imbalanced Vata – Stress, Anxiety, Distraction.
Light
Subtle
Mobile
Hot
Moist
Oily
Sharp
Functions Of Pitta Dosha :
Body heat
Temperature
Digestion
Perception
Understanding
Hunger
Thirst
Intelligence
Anger
Hatred
Jealousy
Pitta is Digestion. Governs metabolism and ability to digest, absorb & assimilate food and experiences.
Balanced Pitta – goal accomplishment, energetic, vigorous, bright. Ability to integrate experiences with ease.
Unbalanced Pitta – inflamed, aggressive, irritable.
Kapha Dosha :
Heavy
Sticky 
Slimy
Static
Slow
Cold
Moist
Oily
Dull 
Dense
Smooth
Functions Of Kapha Dosha :
Stability
Energy
Lubrication
Forgiveness
Greed
Attachment
Accumulation
Holding
Possessiveness
Kapha denotes Stability. Keeps us lubricated and comfortable.
Balanced Kapha  – Strong, Loving, Compassionate, Steady.