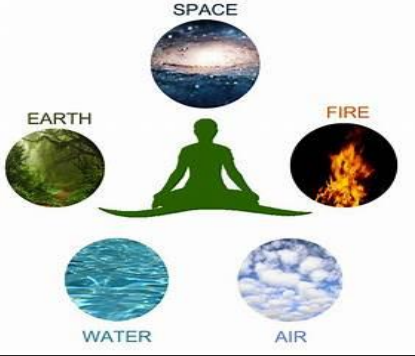 Mudra Vigyan
Published Date:
6/14/2023 6:02:50 AM
The Five Elements :
The Science of Mudras is based on the fundamental principles of life - the 5 elements, or the Panch Mahabhootas.
Our bodies are also made up of these five elements.
They are present in fixed proportions. Any imbalance can cause disease.
There is a lack or excess of these elements due to our current lifestyle, improper eating habits, and impure food and water.
The Universe is made up of five elements.
Earth (Prithvi)
Water (Jal)
Fire (Agni)
Air (Vayu)
Space (Akash)
1. Akash - Space Element:
Occupies the region of the head.
Related to thought processes.
Represents Bodily cavities like cranial, paranasal sinuses, ear cavity, the abdominal cavity.
Also represents space between vertebrae and joints, and other organs.
Associated with Ear and Hearing.
2. Vayu Element:
Occupies place between nose and diaphragm.
Denotes movement of the body and within the body.
Air represents our thoughts and emotions.
It is responsible for the movement of electrical impulses along the nerves.
Associated with touch and skin.
3. Agni - Fire Element:
Occupies space from navel to chest region.
Responsible for body temperature and metabolism.
Fire helps the organs and systems to function.
Causes thirst, hunger, digestion & assimilation of food.
 Associated with Vision and Eyes.
4. Jal - Water Element:
Occupies space between navel and thighs.
Constitutes all body fluids – blood, tears, saliva, digestive juices, urine, semen, and fat, etc.
Associated with Taste and Tongue.
5. Prithvi - Earth Element:
Occupies space between thighs and feet.
Constituent of skin, hair, nails, bones, cartilage, muscles, etc.
Excess can cause obesity.
Deficiency causes weight loss.
 Associated with Smell and Nose.